Fleur Heazlewood

healthy, high performance
Leadership expert, keynote speaker, and founder of the Blueberry Institute.
With over 20 years' corporate leadership experience, and as a past CEO Fleur is an expert in creating sustainable healthy high performance for leaders and their teams. Having personally led three large corporate turnaround and business transformations, she understands the challenges of leading people through change, building high performance resilient teams, and developing leadership accountability for workplace mental health and wellbeing.
Fleur is known for building positive performance cultures that deliver both wellbeing and commercial results.
She partners with leaders to create healthy, high performing teams. She has trained over 3000-people in positive leadership, future-fit resilience, and mental health mastery. Her clients value her accessibility, practicality and skilled use of lessons that work in real life.
Fleur consistently rates 94% + for engagement and effectiveness of learning.
Fleur works with many of Australia's high-profile organisations across industries with examples including Woolworths, 3M, ITW construction, UBS, GenesisCare, Axicom and the Department of Veterans' Affairs. During the pandemic she delivered 500+ virtual keynotes and workshops on leadership, resilience, mental health and performance to 5000+ people across the world.
Fleur's experience is backed by an evidence-base drawn from extensive qualifications.
This include a Masters of Coaching Psychology, Bachelor of Commerce and Company Directors Certificate. Fleur is also a qualified yoga therapy and mindfulness teacher which is incorporated in her personal wellbeing and health practices.
Award winning author.
Fleur's debut book Resilience Recipes, a practical guide to better personal wellbeing, won best Health and Wellbeing Book of 2022 at the Australian Business Book Awards and was a runner up for Business Book of the Year. Her follow up, Leading Wellbeing – A leader's guide to mental health conversations at work, helps leaders support the psychological safety and mental health of their teams.
Conference keynote speaking and team days.
Fleur's highly relatable in-person and virtual keynotes are a blend of education, entertainment, and practical tips that leave people feeling inspired, energised, and ready to act.
People want ideas, empathy, and encouragement to make positive change. People are struggling with how to deliver quality work, connect and develop meaningful relationships with their colleagues, be fully present and engaged, and invest enough in their wellbeing and energy to balance it all.
Fleur's presentations reflect the times we live in now, the behaviours we need to demonstrate and the challenges we face today and in the future. She works with you to share the wellbeing, culture, and performance messages that you need understood across your organisation to drive positive change.
Polular keynote topics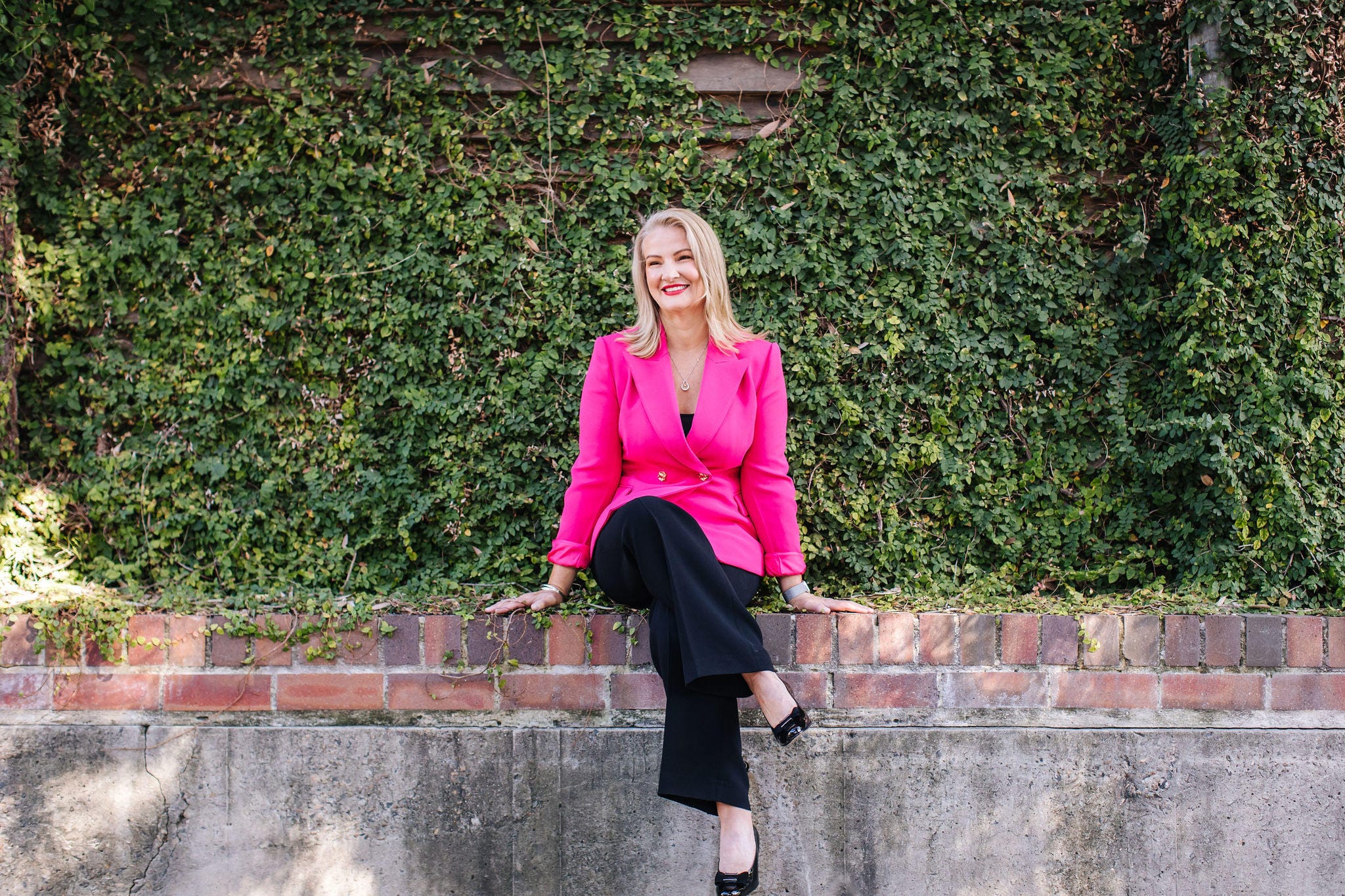 Keynote #1:
People that are well, do well.
But we are doing a lot of doing, and not enough well. This equation is wrong and leads to burnout.
Discover how smart selfcare builds resilience, and boosts both your wellbeing and performance.
Keynote #2:
Beating Burnout is about Boundaries not Balance. 
In our race for more, we are reducing ourselves to less. And, for many of us, our health and wellbeing is the 'less', and the 'more' is an endless cycle of busyness and stress.
Discover how the secret to achieving healthy, high performance is about managing your boundaries and mastering your space.
Our Blueberry Institute team
Meaveen Sullivan
Executive Coach and Facilitator
Meaveen facilitates our wellbeing, resilience and mental health foundations workshops using a range of evidence-based tools that enable positive and healthy change.
Meaveen has over 15-years senior corporate training experience across a range of organisations such as Navitas, The Smith Family, Outliving Australia, Sydney University, Greenwich College and SOAS London. Her experience is backed by extensive qualifications which includes a Master of Coaching Psychology, Professional Certified Coach ICF, Mental Health First Aid Certificate, Strengths Profile Accredited Coach.
Running, travel and skiing are an important part of her health and wellbeing.
Chloe Henger
Business Manager
Chloe ensures the smooth running of the business and ensure that all our clients are well looked after! Overseeing all aspects of our business Chloe manages our programs, stakeholder support and team.
She has a background in marketing and business across the wholesale and retail industries and provides focus for business and systems development. Camping, baking, and quality family time contribute to Chloe's wellbeing.
Jodie Ross
Business Co-Ordinator and Customer Care
Jodie is our program co-ordinator providing the client and participant support that ensures everyone has what they need for a great learning experience. She loves working with people and takes pride in customer service.
With a background in business administration, finance, and operations, Jodie is also our finance manager. And with the beach on her doorstep, Jodie has lifestyle nailed!
"I have had the pleasure of working with Fleur for over ten years and have found her to be my go-to for advice and mentoring and a great source of energy. Fleur's passion for helping and challenging people to truly be their version of the best shines brightly."
Kim Cheney, Head of HR – fintech, wine and fast-moving consumer goods
"Resilience is the critical ingredient to living a balanced and rewarding life. Fleur is the right person to bring this message to the world as she has powerful lived experience to share. She provides a good measure of case studies and theories with practical tips for building resilience. You come away with a sense of lightness, hope, and new insights into wellbeing that will work for you."
Simone Allan, Founder, Women's Resilience Centre, and Mondo Recruitment
"Fleur is a passionate crusader who improves the wellbeing of everyone she encounters. With Fleur as your mentor, you'll go from surviving to thriving, as she shares her years of wisdom and experience in working with leaders and teams to prioritise wellbeing to achieve amazing results for businesses and individuals. Her practical and easy to follow guidance is life changing."
Colleen O'Connor, Head of HR, Goodman Fielder
Springboard your success. Wherever your team is at in their healthy, high performance journey, we have a program that can help. We would love to chat!
Fleur works with many high-profile organisations.