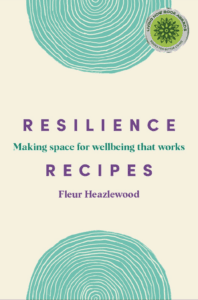 Resilience Recipes is an award winning book that provides strategies to better manage stress, find more balance in your life, and bounce back. It's for real people facing real-time challenges every day.
"To function as your best self, you need to make space for your own wellbeing."
This engaging, easy to read wellbeing guidebook cuts through the sea of wellness information with a curated selection of resilience and wellbeing strategies that are proven to work. While there is no one-size fits all solution to wellbeing, there is a resilience recipe that will work for you! Most of us know the basics for good physical health but don't know how to support our psychological wellbeing.
Your step-by-step guide covers where to start, what to do, and what works for boosting your wellbeing with resilience.
Who should read this book?
Get your copy here.
"Resilience Recipes is the first book I have read that allows me to tailor my path based on what's important to me. It is like having your own mentor guiding you to transform on your terms. This book proves that with the right wisdom and guidance we can all become master chefs of our own wellbeing." – Barry Hemsley, Assistant Director, APS