What we
Do
Healthy, high performance
Our programs are for leaders, teams and organisations wanting to build positive, engaged, high performing cultures.
In our experience people that are well, do well, and achieve better outcomes for themselves, their teams, and the business. Healthy and happy people are proven to perform up to 30% better with productivity, problem solving, creativity, innovation, and achievement.
We teach and embed 3 core culture competencies with your leaders and cascade through the whole of business.
Safe – Transform mental health risk into a mental wellbeing asset
Well – Develop your people to be well and do well
Strong – Enable Positive Cultures that Out-perform
Our learning system
Our action learning programs combine training, coaching and mentoring to transform learning into everyday action.  Out clients return to us each year, because of the high quality of our programs and the consistent results we achieve.
Springboard your success. Wherever your team is at in their healthy, high performance journey, we have a program that can help. We would love to chat!
ITW Wellbeing Culture Case Study
Blueberry Institute created a 12-month evidence-based capability building program of mental health, resilience skills and wellbeing strategies for ITW Residential leaders and their teams. The results included improvements in key HR metrics, safety results and positive culture measures – while achieving business sales and profit growth. We won an icare recognition award for workplace wellbeing innovation.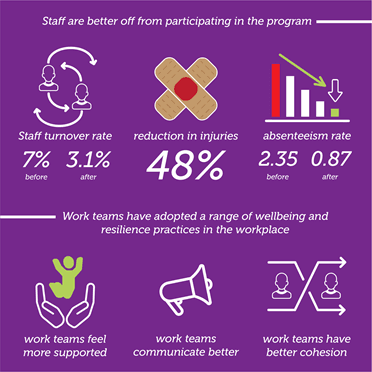 Blueberry Institute works with many high-profile organisations.